Harvest Machinery is a professional and experienced manufacturer of waste tire recycling equipment. We can provide you with the most cost effective waste tire recycling plant. In other words, you can get a superior tire recycling machine at a reasonable price, as well as perfect service.
If you want to buy tire recycling equipment and start tire recycling business, please feel free to contact us!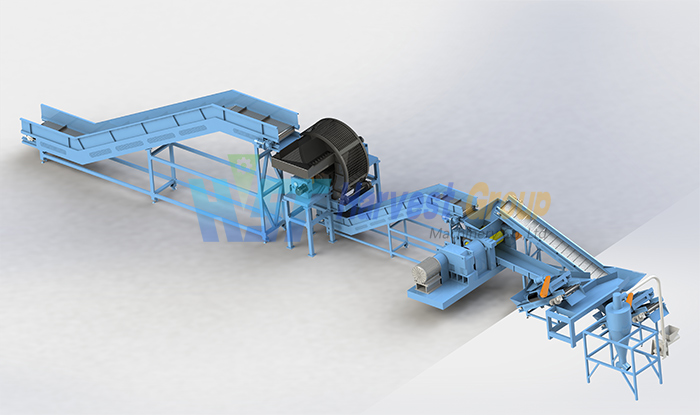 Over the years, we have successfully installed tire recycling equipment in many countries, such as the United Kingdom, South Africa, Australia, etc. In addition, through our analysis of the waste tire recycling plant project report, you will have a clear idea of what a waste tire recycling plant costs.
Process of Tire Recycling
All kinds of waste tires can be processed into granules or rubber powder, and the required fineness (mesh) can be adjusted according to different requirements. The main process includes tire drawing, shredding, fiber separation, rubber grinding, screening and so on. The main equipment involves tire drawing machine, shredding machine, coarse crusher, ultra-fine rubber grinding machine, fiber separator, rubber powder classifier, etc. Our equipment is equipped with cooling system, dust removal device, atomization spray system; Also can be equipped with dust and fiber removal device according to customer requirements.
Application of End Products of Tire Recycling
8-20 mesh: It can be used for running tracks, road MATS, pad, lawns, elastic paving layers and other sports venues.
30-40 mesh: It can be used to produce recycled rubber and slab, as well as modified rubber powder, etc.
40-60 mesh: it is known as fine powder, mainly used for filling rubber products, and plastic modification, etc.
60-80 mesh: it is known as superfine powder, mainly used for automobile tire, rubber products, and building materials, etc.
Tire Recycling in Australia
This is a very simple process. Our first step in recovering off-road (OTR) tires and conveyor belts from remote mining areas is that, upon request, we can go to the site, crush them on site with our mobile crusher, or cut them up for safer disposal, and transport the rubber waste back to one of our five processing facilities in Australia. We then dispose of this waste in accordance with environmental regulations (including all EPA and parliamentary approvals) at our safety facilities across Australia, as we collect it from manufacturers, tire retail partners, local councils and other sources.
The tires and belts can be used as granulation material, which is the base material for our recycled products. We are also producing tire derived fuel (TDF) and tire derived aggregate (TDA), as well as rubber pellets of different sizes, rubber crumbs (440 to 710 microns) and steel recovered from tires.
Tyrecycle controls the final destination of our products to ensure the complete chain of custody in our recycling process. With strict documentation and process controls, TyRecycle is able to provide reporting that supports the final destination of products; Whether it's rubber fragments or TDF. Tyrecycle continues to work with government and industry to raise awareness of the importance of tire recycling and the commitment to related product development.
Tire recycling plant for sale Australia